Ullevi's 60th anniversary!
Join us on a tour of magical moments at our beloved Ullevi!
In the run-up to the 1958 FIFA World Cup, an architectural competition was announced to design the new Ullevi stadium. This was quite a challenging task. The competition called for a multi-purpose stadium that could be used for much more than football. Athletics, figure skating, speedway... perhaps even ice hockey. The winners were architects Fritz Jaenecke and Sten Samuelsson. The stadium received superlative reviews and was hailed as "one of the world's most beautiful sports venues" by visiting journalists. 2018, 60 years later, Ullevi is still Scandinavia's largest outdoor stadium.
The film takes you on a journey through the years and shows some of the highlights from Ullevi. You can read more about these magical moments on this page.
1958 Inauguration of Ullevi
Ullevi was inaugurated on 29 June in front of 50,989 spectators. The main sports attraction at the event was the football match between the Swedish national team and the Gothenburg city team. Centre-forward Bror Mellberg (AIK) kicked off the match, which ended with a score of 2–2 and was part of the run-up to the FIFA World Cup.
1958 FIFA World Cup
In all, seven matches were played in Gothenburg with a total of 274,256 spectators. The match between Brazil and the Soviet Union enjoyed the largest attendance: 50,928 spectators. The Swedish national team only played once at Ullevi, in the legendary match against West Germany in which Sweden secured a 3–1 victory. Kurre Hamrin's goal in the final minutes is one of the most classic World Cup goals in Swedish history. It was in this match at Ullevi that Sweden beat West Germany for the first and only time in a World Cup match, as 49,737 spectators looked on.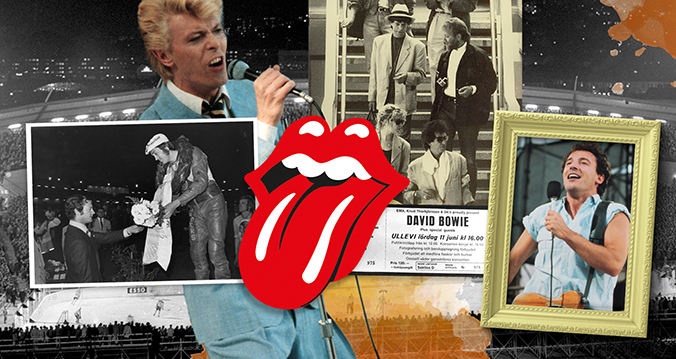 1958 Legendary boxing match on 14 September
On 14 September, the legendary boxing showdown took place at Ullevi between Ingemar Johansson and Eddie Machen. The American came to Gothenburg for a warm-up match in preparation for fighting Floyd Patterson for the world heavyweight title. After 2 minutes and 16 seconds, Johansson floored Machen in front of 53,614 spectators at Ullevi, and the Swede clinched the victory.
1962 The world's first artificially frozen ice rink, combining a speed skating track with 400-metre laps and an ice hockey rink
During the planning of Ullevi's activities, it was decided that the stadium would have both a speed skating rink and an ice hockey rink. This innovative decision turned out to be a profitable investment, resulting in record ticket sales for both of the sports.
1962 Record attendance for ice hockey at Ullevi
Västra Frölunda played against Djurgårdens IF in an Allsvenskan professional league match watched by 23,192 spectators. This is the official figure, but the actual figure was higher because the public stormed the entrance at least twice during the event, crowding onto the spectator stands. Västra Frölunda beat the Stockholm team 3–2 at their home stadium in a match full of dramatic moments, both on the ice and among the spectators.
1974 Speedway is introduced
In the early 1970s, motorcycle speedway was introduced at Ullevi. Ullevi hosted the World Speedway Championships no less than four times. The speedway attendance record was achieved in 1974 with 38,390 spectators, who finally got to see a Swedish victory when Anders Michanek from Stockholm clinched the gold medal.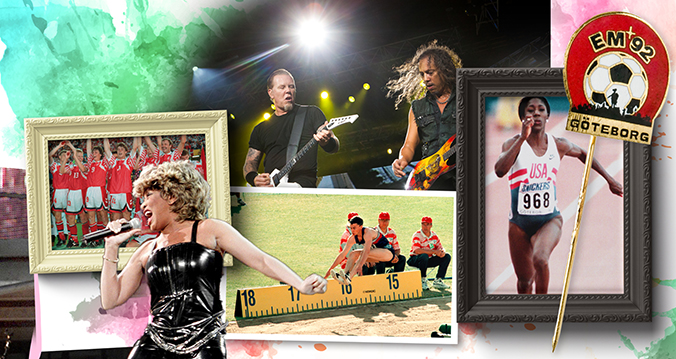 1982 Ullevi becomes a concert stadium
For two days in June 1982, Ullevi hosted the Rolling Stones as part of their European tour. The concerts drew almost 120,000 spectators and marked the start of Ullevi's success as a concert venue.
1985 Two classic Bruce Springsteen concerts
In June 1985, Bruce Springsteen gave two classic concerts that set the Swedish audience record. Ullevi's pylons swayed as nearly 60,000 people jumped in unison to Bruce's "Twist and Shout". The stadium survived the ordeal and the two concerts are still enthusiastically talked about today.
1992 UEFA Euro final
Sweden hosted Euro 1992, and the final was played at Ullevi between Denmark and Germany. Denmark had defended its free place in the tournament well, and beat Germany in a sensational 2–0 victory. 
1995 World Championships in Athletics
In connection with its 90th anniversary in the autumn of 1985, the Swedish Athletics Association applied to host the World Championships in Athletics in 1995, the year of the Championships' 100th anniversary. At the Tokyo World Championships in 1991, Gothenburg was awarded the hostship in competition with cities such as Melbourne, Minneapolis, Athens and Berlin. The 1995 World Championships in Athletics was a spectacular event! It was an unforgettable summer with blazing sunshine and temperatures consistently around 30 degrees Celsius. Jonathan Edwards was the star of the event, succeeding in raising the world triple jump record to 18.29 metres. This record still remains untouched 23 years later.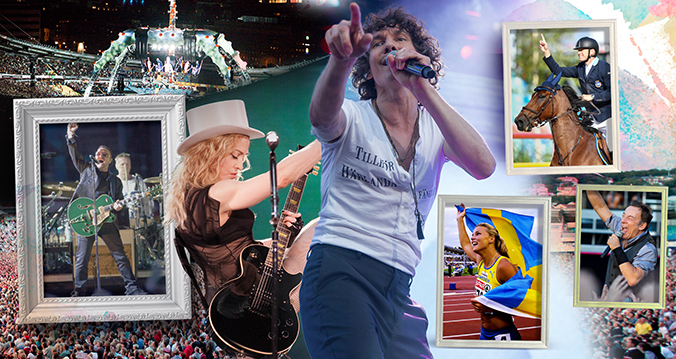 2001 Hard rock, athletics and horses
Ullevi added hard rock to its ever widening range of events, and the genre arrived in Gothenburg to stay. AC/DC was first out in 2001, supported by the Swedish bands Lok and Hardcore Superstar.
2004 Metallicas first concert at Ullevi
Metallica played for the first time at Ullevi during its Some Kind of Monster Tour, transforming Ullevi into a mass of reeling heads "reminiscent of seaweed in a stormy sea".
2006 European Athletics Championships in Gothenburg
This was a time of athletic excellence for Sweden, and this success was crowned with five Swedish medals in the Championships. Athletics have been part of Ullevi's offering since 1995. An annually recurring event is the World Youth Games. A glance at the event's starting lists shows that all gold medallists in the 2006 championships had competed in the World Youth Games. 
2009 The coolest concert stage ever?
Saturday 1 August 2009 was a magical day – sunny, hot and virtually wind-free. U2 had just arrived at Ullevi with its 360 Tour. It's no exaggeration to say that the main attraction – apart from the band and their music – was the gigantic stage set-up, nicknamed "The Claw". By the time the U2 360 stage was dismantled for the last time on 30 July 2011, the tour had been watched by 7 million fans.
2009 Female sensation at Ullevi
Madonna played at Ullevi for the first time on the "Sticky & Sweet Tour", drawing 119,000 visitors in two days.
2012 Summer night with the boss
On 28 June, Bruce Springsteen ended his concert with "Twist and Shout" (fondly nicknamed "the stadium breaker") in front of 66,000 euphoric fans.
2015 Concert makes world headlines
The Foo Fighters performed at Ullevi on 12 June. The concert made history when front man Dave Grohl fell off the stage, broke his leg and finished the concert sitting down.
"I may not be able to walk or run, but I can still play guitar and scream," said Grohl from the stage.
2016 Attendance record 70,144
Håkan Hellström has almost filled Sweden's most classic concert stadium three times in two years. The evening of 5 June is as beautiful as only a Swedish summer evening can be. Håkan breaks his own attendance record from 2014, raising the attendance record at Ullevi to 70,144.
2017 LONGINES FEI EUROPEAN CHAMPIONSHIPS
On 21–27 August, 300 of Europe's best riders and 600 horses arrived in Gothenburg to compete at Heden, in Slottsskogen and in Ullevi. Sweden enjoyed several wins at Ullevi including a team silver in jumping (Malin Baryard Johnsson, Peder Fredricson, Douglas Lindelöw and Henrik von Eckermann) and a thrilling gold medal on home soil for Peder Fredricson and All In.